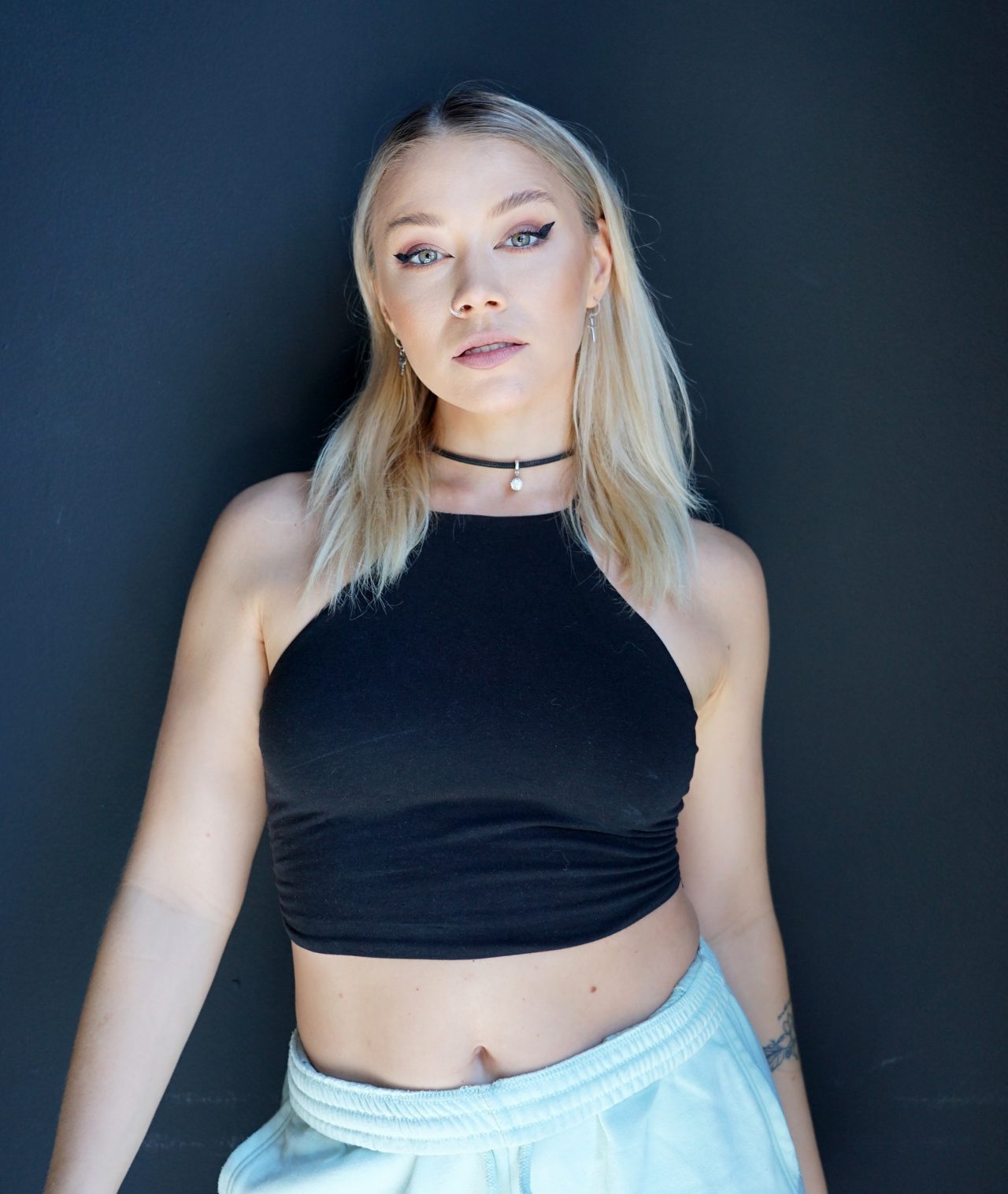 SIMONA MEREU: DANCEHALL, HIP HOP, House Dance, Choreo
Data nasterii : 28.04.1991
Simona este nascuta in Romania – Bucuresti, fiind influentata de legaturile nordice, moldovenesti din partea mamei si cele rusesti din partea tatalui. Dansul si muzica au facut parte din viata ei inca din vremea copilariei, pe cand incerca sa se imprieteneasca cu baletul, dansurile moderne si cursurile de canto. Totul a capatat un nou inteles abia in anul 2006, cand a cunoscut dansurile urbane, moment ce a transformat-o intr-un autodidact, dornic de evolutie, insa fara un acces propriu-zis la informatiile de valoare.
Data fiind aceasta situatie, drumul pe care l-a parcurs ca sa ajunga la ceea ce cauta, a fost plin de obstacole si impanzit cu nu prea multe succese. La primul contact cu scena de dans internationala, Simona si-a schimbat perspectivele, a descoperit si a inceput sa studieze stilul de dans de care s-a simtit atrasa, astfel in anul 2012 a inceput sa construiasca o baza solida in DANCEHALL, bazandu-se pe ceea ce a invatat alaturi de dansatori renumiti precum: Laure Courtellemont, Crazy Hype, Raddy Rich, Blackka Di Danca.
Nevoia permanenta de a se dezvolta si simtul autocritic, au determinat-o sa impinga barierele si sa-si rafineze abilitatile si in alte stiluri de dans precum House Dance si Hip Hop, pastrand-si un nucleu puternic in dancehall.
Simona investeste foarte mult in dezvoltarea proprie, calatorind des in afara Romaniei pentru a sta la curent cu tendintele internationale si pentru a crea o dezvoltare la unison. Tocmai pentru a-si impartasi studille, preda des in Romania, in tabere de dans si seminarii. In anul 2014 a sustinut primul workshop international, in Grecia – Costa Navarino.
Convinsa de faptul ca esentele cele mai puternice provin de la radacini, nu a pierdut contactul cu scena de dans underground, folosind aceste resurse pentru a completa si dansul scenic. A colaborat ca si dansatoare cu nume importante din industria muzicala romaneasca cum ar fi: Alex Velea, CRBL, 3SE si a coregrafiat mai multe spoturi publicitare, dar si videoclipuri muzicale precum: "XONIA FT. J. BALVIN – I WANT CHA", "ADMIRAL C4C – DROP THE BOOM"
Cu un puternic simt antreprenorial a pus bazele scolii de dans "DANCE PRESTIGE" si a inceput sa organizeze evenimente si seminarii de dans, cu scopul de a ridica scena nationala. Cateva dintre evenimentele importante din cariera ei le reprezinta: publicarea primei reviste de dans si cultura urbana "Street Quality", seminarii de dans alaturi de LES TWINS (Franta), IAN EASTWOOD (USA), DAVE SCOTT (USA), CLIFF MCGHEE (USA).
Simona Mereu este implicata in prezent in mai multe proiecte pentru scena de dans comericala, dar si cea underground, fiind in continuare o studenta a artelor, impartasind experientele ei alaturi de cei care se simt atrasi de aceleasi viziuni si scopuri.
HIGHLIGHTS:
Locul 1 Grecia 2018 DHI
Locul 2 Roma 2018 Nitty Gritty
locul 5 Nitty Gritty 2016 – Roma, Italia – Major Danger
DANCEHALL QUEEN ROMANIA 2014
Fair Play Dance Camp 2015 – HALL OF FAME – Ragga Jam
Finale Romania Danseaza 2013 – Kult Vibe
locul 6 Nitty Gritty 2015 – Roma, Italia – Major Danger
Semifinale Nitty Gritty  2016 – DUO SIMONA MEREU & DI DANGER
top 16 EUROPA (DUO) – DANCEHALL – JUSTE DEBOUT (Paris)
top 14 EUROPA (DUO) – DANCEHALL – DANCEHALL INTERNATIONAL (Barcelona)
locul 1 Hip Hop International Romania 2014
locul 1 Black Sea Dance Camp 2013 – Crew
BACK-UP DANCER
• Alex Velea – 2009 – 2010
• CRBL – 2010 – 2012
• Xonia – 2014
• 3SE – 2014 – 2015
• ADDA – 2014 – 2015
• Admiral C4C – 2014 – prezent
COREGRAF:
Admiral C4C (Cipru) – Drop the boom
Admiral C4C (Cipru) – Booty Bounce
Admiral C4C ft. Nyanda  (Cipru & Jamaica)- Outta Control
Fadi KOD (LIBAN) – Doing my Thang
Xonia ft. J. Balvin – I want cha
CK ONE SHOCK – Ro release
Supa Squad (Portugalia) – Man a Hustler
Owner:
• SC. DANCE PRESTIGE STUDIO SRL.
JUDGE:
CUPA SCOLILOR la Streetdance – finala 2016
CUPA SCOLILOR la Streetdance – finala 2015
Black Sea Dance Camp 2015 – Dancehall
Hip Hop International Romania – 2015 – All Styles
TEACHER/ARTIST:
Flava Dance camp Italia 2017 – 2018
Workshops in Oakland (SUA), New York (SUA), San Francisco (SUA)
Workshops in Greece, Chisinau, etc..
Black Sea Dance Camp 2013 – 2014 – 2015 – DANCEHALL
Sons of Kingdom Dance Camp 2016 – DANCEHALL
Swag Dance Camp 2015 – DANCEHALL
G-Power Dance Camp 2015 – 2016 – DANCEHALL
Dance Camp Romania 2011 – 2012  – House Dance, Choreo
Dance Camp – Suceava 2015 – DANCEHALL
VIDEOCLIPURI:
KAT DELUNA feat Faydee – Nobody 2016
Delia – 1234 2016
Kamelia – Suave 2016
Videoclip Residence d-jays & Frissco "Echo" – 2011
Cristina Spatar – "Go high"- 2008
Chicanos – "Maleya" – 2008
Alex Velea " Sectret discret" – 2009
ORGANIZATOR/ANTREPRENOR:
– Les Twins Workshop 2014
– Ian Eastwood, Dave Scott, John Silver Workshop ft. WGSU 2014
– Turneu Dancehall & Ragga jam cu SIR LEDGEN & SIMONA MEREU 2015
– WORKSHOP DANCEHALL SIR Ledgen (USA/JAMAICA) 2015
– Workshop Lady Cun Faya (Italia) – 2016
– Workshop Lil GBB (Franta) – 2016
– Concurs MONSTER CRIB 2015
– WORKSHOP DANCEHALL Eve Smiles (franta) 2014
– Publicat revista Street Quality – 2013
–  Organizat Dance Prestige Awards – 2012, 2013
– Infiintat Dance Prestige Studio – 2011
A studiat alaturi de:
– Marissa Osato – contemporary
– Yeya (Suedia) – Hip hop, house dance
– Swoosh (Anglia) – Hip hop
– Richmond & Tonkins (WORD CLASS FITNESS ACADEMY) – african dance
– Robert Lenart (Germania) – choreo
– Alex Bullon (Barcelona) – choreo
– Laure Courtellemont – dancehall / ragga jam
– Sir Ledgen (USA/Jamaica) – dancehall / ragga jam
– Global Bob (Jamaica) – dancehall
– Camron (France) – dancehall
– Crazy Hype – dancehall
– Blacka di Danca – dancehall
– Raddy Rich – dancehall
– Steddy – dancehall
– Audrey – dancehall / ragga jam
– Andrey Boyko – ragga dancehall
– Dna. Prof. Andreea Novac – Dans contemporan / jazz
– Marty Kudelka – choreo
– Ian Eastwood – choreo
– Wildabeast – choreo
– Akihico&Yoshie (Japonia) – hip hop & waacking
– John Agesilas (France) – jazz
– Ejoe ( SUA ) – house dance
– Rabah ( France ) – house dance
– Hiro ( Japan ) – house dance
– Kyle Hanagami – choreo
– Koharu – choreo
– Brian Friedman – choreo
– Jonte Moaning (beyonce's choreographer) – choreo
ALTELE:
• Prelectii Nitty Gritty – Roma 2015 – SOLO
• Dansatoare spot comercial URBAN EARS – 2014
• Preselectii JUSTE DANCEHALL – FRANTA, 2014
• Finalista ROMANIA DANSEAZA (2013) alaturi de trupa Kult Vibe
• Locul 3, dancehall – Dance Camp 2013
• Preselectii House Dance Forever – Amsterdam, 2012
• Spot Publicitar Jacobs 3 in 1 BoomBlaster Maniacs – 2011
• Romanian Music Awards – Craiova alaturi de Alex Velea 2009
• Romanian Music Awards – Craiova alaturi de CRBL – 2010
• Aparitie in revista " ONE " – mai 2010 – CRBL show Famous Brands
• Locul 2 Romania la cupa liceelor 2009
• Locul 2 Bucuresti la cupa liceelor 2009
• Locul 2 Cupa Liceelor 2008
• Locul 1 la seven2smoke 2008
• Locul 10 Nymphea, sectiunea trupe – 2007
• Locul 7 Suburban Fest, sectiunea trupe – 2007